For more clothing by Sallie Bell, please visit Yoga Elegance, a new concept in exercise attire!
Sallie Bell offers unique items with a classy sophisticated flair. Her current designs celebrate casual chic, proving that easy sophistication can be both carefree and comfortable. Sallie designs "wearable art", characterized by bold elegance, quirky details and grandiose statements sprinkled with a great sense of fun. Her art has feathers, sequins, antique buttons and found objects and always an unexpected panache.
Exotic looking but all local is Salllie's working philosophy and her garments are all Made in the USA, sewing in Portland, Oregon and quilting, details and her jewelry on Orcas Island.
In fact, your selected jewelry will be shipped postpaid, arriving in a lovely silk bag snuggled inside a "gift box" - a small chinese steamer caddie for an elegant presentation, hallmark of the special attention to detail that embodies all of Sallie's work.
Sallie delights in customized jewelry, working directly with you to create a personalized accessory statement. You could choose your own combination of hand carved beads or even provide a prized family heirloom that you would like to include in a customized setting.
About Sallie Bell :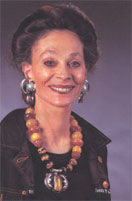 Sallie Bell is one of those rare people who has figured out how to meld her personal spiritual beliefs with her working life. A practicing Buddhist for most of her adult life, Bell designs jewelry for her one-woman business, Sallie Bell Designs half the week and goes into retreat for the other half of the week. On her island property she not only has a studio for her jewelry work but a chapel sized "shrine room" built and decorated in the manner of traditional Tibetan Buddhist meeting and prayer rooms. By incorporating her Buddhism practice into her life as an artist she has ended up making a line of big bold jewelry that has spiritual quaities.